Top Ten Tuesday is an original feature/weekly meme created here at
The Broke and the Bookish
. This feature was created because we are particularly fond of lists here at The Broke and the Bookish. We'd love to share our lists with other bookish folks and would LOVE to see your top ten lists!
Each week we will post a new Top Ten list that one of our bloggers here at
The Broke and the Bookish
will answer. Everyone is welcome to join. All we ask is that you
link back
to
The Broke and the Bookish
on your own Top Ten Tuesday post AND add your name to the Linky widget so that everyone can check out other bloggers lists! If you don't have a blog, just post your answers as a comment. Have fun with it! It's a fun way to get to know your fellow bloggers.
Top 10 New-to-Me Authors I Read in 2014
(All covers and author pics courtesy of Goodreads.com unless otherwise linked)
I don't have many of these. I did a lot of re-reading and reading authors I already know and love this year. I guess I need to make a goal to read more new authors next year. LOL.
4. Robert Galbraith -- yeah this is totally a cop out because it's really J.K. Rowling and I love Harry Potter. But...technically it's a different author on goodreads, right? :D
3. John Green -- I read The Fault in our Stars and really loved it. (Haven't had a chance to see the film yet, though.) I'll definitely be reading more John Green in the future.
2. Rachel Vincent -- I read the entire Soul Screamers series at the beginning of the year and was surprised how much I loved it. As most of you know, I'm not someone who's terribly into YA. It's not that I don't like it, but I'm VERY picky. That said, I really loved Soul Screamers. Definitely worth a read!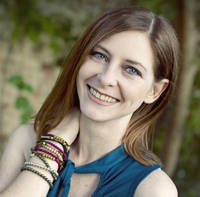 1. Brandon Sanderson -- Okay, another cop out. I had technically read Sanderson before because he finished the Wheel of Time series when Robert Jordan passed away. But this was the first time I'd read something that was wholly his. (And I loved it, btw. The Stormlight Archive is awesome!)
There were a few more new authors I read this year, but the others I didn't really like so I can't put them on a top ten list in good conscience.
How about you? What top ten new-to-you authors did you read this year?