Announcements: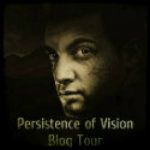 Persistence of Vision Blog Tour!!! The blog tour will kick off on January 13! (Check out my other blog, Musings on Fantasia, for details.) There's a badge and code in the sidebar for anyone who wants to grab it. Note: During the tour I will probably be posting slightly less on this blog, as I will have a lot more work to do.
For those of you who are local to Utah, I'll be at the A Passionate Affair Valentine Gift Show on February 9th, signing/selling books (Persistence of Vision)...and probably fudge too. If you're close by, please stop by! I'd love to meet you in person!
I also have a signing in the Ogden, Utah Hastings Store on February 22. More details to come.
Historical Tidbit
King Henry VIII
source: channel4.com
Did you know...that England's infamous
King Henry VIII
was never meant to be king?
Henry is most known for chopping off the heads of his wives and mistresses in pursuit of a male heir, but as a king (it terms of policies, running the realm in a hands-on way and gaining the love of the people) he was actually a largely effective ruler.
Interestingly enough, he was never meant to be king. He was actually the second son. His older brother Arthur, was first in line for the throne. That, however, is exactly why Henry ended up ruling.
Arthur Tudor
tudorplace.com.ar
You see, in a world on the cusp of the Renaissance, little was known (that was accurate) about the physical body. The heir to the throne was watched and protected religiously. The heir was not allowed to play outside, because he might fall down and hurt himself. He was not allowed to travel because it might be dangerous. He was not allowed to live his own life or pursue his own passions because he had to prepare to be king. This was the life of Henry's elder brother, Arthur. Because of it he was a frail and sickly child that grew into a frail and sickly man.
Meanwhile, Henry, who no one had any need to protect because he would never sit the throne, was a hearty, robust, athletic youth. He loved to wrestle and play sports. He was happy, energetic and adventurous, and his exploits with the ladies were, as you might imagine, quite infamous.
So, Arthur died young and Henry assumed the throne, where he would become beloved of the people, throw the country into schism, turmoil, and war, create his own church, which thing led indirectly to the colonization of America, and father many on-again-off-again legitimate children, mostly daughters. One flame-haired daughter would follow him to the throne and sit on it for nearly half a century, leading England through it's golden age.
Is it any wonder that the Elizabethan period is great fodder for historical fiction? And just think...it wasn't ever supposed to happen that way.
What do you think? The "best-laid plans o' mice and men? Or is there some Providence in this?