Dearest blog readers,
My deepest apologies but I'm pretty much coping out of my post today. I was going to do a third post on editing, but it will have to wait for next week. You see, though I won't post this until Wednesday morning, I'm writing it Tuesday night near midnight. I am in the process of moving, and have been lugging boxes for two days straight. Can't make my legs work and really just want to drop (that's right, DROP) into bed. So, I got one blog post done, but not two.
If you're interested, I did the second post of a series on villains on my
Musings on Fantasia
blog. Go check that one out if you want. I'll also do RMQ below. Other than that, see you tomorrow! Have a wonderful Wednesday! :D
Random Movie Quotes
Don't know what this is? Click
here
.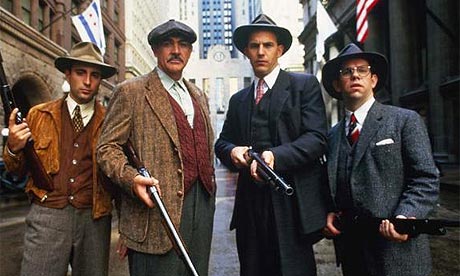 So
yesterday's RMQ
wasn't guessed by anyone, but it was kind of obscure. This angry line was said by Robert DeNiro in the film
The Untouchables
(one that I can watch over and over again to this day). He was playing Al Capone (hence the angry words when Elliot Ness began to get the better of him. :D)

Here's today's RMQ (I promise it'll be a little easier):
"Geez, you smoke too?"
Three points: one for film, one for character, one for actor. Good luck! :D